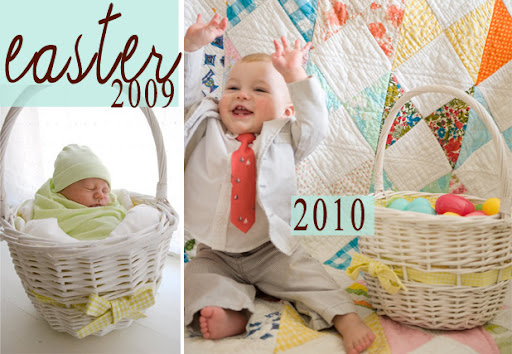 So big!
So big he doesn't fit into his Easter basket like last year.
So big he is bigger than his Easter basket this year.
(No camera tricks. Same boy. Same basket. Promise.)
So big I can hardly stand it.
On Easter Sunday one year ago, we had just brought our precious, defenseless 3-day-old little chick home. He was so freshly hatched that we weren't even ambitious enough to leave the house and take him to church. We just chilled in our pjs all day and nervously tucked him in his Easter basket to snap a quick picture. This year he is a babbling, cruising, fiercely crawling and curious young man who devours everything in site.
He sparkles with charm. And his Easter outfit is killing me. What can I say, I am a sucker for a seersucker suit. Who says you need a little girl to play dress up anyway?

Wishing you all the kind of perfect joy and peace that can only be found in Jesus this weekend.

And oh yes--can't forget. Congrats Leslie, you are the proud new owner of the cutest alphabet t-shirt!! Enjoy. :)